Hi, we're Fi and Dave and we want you to have a lovely holiday. Here's some information about the cabin and what to expect and an aerial view so that you can see how private you'll be..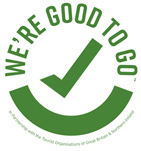 Built from Scottish resources and as eco-friendly as possible, your cabin is warm and snug with central heating and on-demand hot water.
We wanted to steer away from holiday-camp-type lodges and give you a relaxing time in the country, away from the hustle and bustle of modern life; your own private country retreat and yourcabin sits on its own in 14 acres of woodland-fringed fields
With two bedrooms, a double and a twin, our cabin is ideal for the "nuclear family" and if you have " 2.4 children" (as the statistics say) then we can provide a cot bed for the double room so that baby can be with you. We also have a high chair.
The single beds are full size so we can take four adults - although we do not do stag parties.
Coronavirus - We're Good To Go: As you can see from the logo above, we've been registered as compliant with the British Tourist Board and Visit Scotland's "Good To Go" scheme, which means that we fulfill all of the Coronavirus hygeine criteria for self catering holiday homes.
The cabin has been fully cleaned down for you and we have left an EN14476 viricidal spray for your convenience. One final word, whilst a dilute bleach solution is good for wiping down hard surfaces, if you've brought such a thing with you, by all means use it on hard surfaces but please don't pour it down the toilet. The cabin has septic tank as its sewage system and this relies upon healthy bacteria to function. Bleach will kill these bacteria.

So what do you get at Belstane Log Cabin?
The Cabin is Centrally Heated and fitted out like any modern house with the usual modern conveniences:
| | | | | |
| --- | --- | --- | --- | --- |
| Kitchen | Sitting Room | Bedroom 1 | Bedroom 2 | Bathroom |
| Electric Oven & Gas Hob | 2-Seater Sofa | King-sized Double Bed | 2 x Large Single Beds | Shower Cabinet |
| Dish Washer | Armchair | Double Wardrobe with Drawers | Double Wardrobe with Drawers | Wash Basin |
| Washing Machine | Rocking Chair | Bedside Cabinets | Bedside Cabinet | Cabinet + Shaver Socket |
| Fridge + Freezer compartment | Coffee Table | Occasional Chair | Bath & Hand Towels |   |
| Kettle & Toaster | Occasional Tables | Bath & Hand Towels | Sheets & Pillow Cases |   |
| Microwave Oven | TV with DVD | Sheets & Pillow Cases | Duvet & Cover |  Outside |
| Coffee Cafetiere | Bookcase with Books, Games etc | Duvet & Cover | Pillows & Pillow Cases | Decking Area |
| Pots, Pans & Dishes | Cast Iron Stove | Pillows & Pillow Cases |   |  Gas Barbecue |
| Dining Table & Chairs | Binoculars | Hairdrier |   |  Picnic Table |
| Other Things | Selection of DVDs | Child's Cot/Bed |   |  Rotary Drier |
| Smoke, Heat & CO alarms |   |   |   |  14 Acres of fields |
| Clothes Horse |   |   |   |  12 Acres of Woodland |
| Vaccuum Cleaner |   |   |   |   |
| Iron & Ironing Board |   |   |   |   |
The cabin is insulated to a very high level and has central heating and a cast iron stove and you'll find it warm and cosy at any time of year - so even if you're taking an out-of season break, you'll have somewhere welcoming to come back to at the end of the day.
Being in a rural location is all very well but you'll probably want to sample a few new experiences while you're here. Although it's in the countryside, Belstane is situated only a few miles from the outer fringes of Edinburgh and there are bus and train services right into the heart of the Festival City within easy reach.
Edinburgh is a major tourist destination for visitors from all corners of the world – with good reason – but there's a host of other activities in which to indulge other than culture. From the air, as you fly into Edinburgh airport, you can see so many bunkers and greens that you might be forgiven for thinking that the Lothians are just one big golf course and golf, inexpensive but top notch golf, is more freely available here than in any other country in the world.
Please note: we do not take stag or hen parties.
Wildlife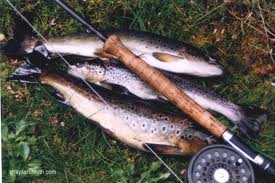 Belstane cabin sits on its own in a wood-fringed field and there is ample opportunity to sample the local wildlife as well as the beautiful rolling Pentland landscape. Whether you're a true wildlife enthusiast or simply somebody who likes to enjoy wildlife in its natural setting, Belstane can offer you the peace and tranquility to enjoy it.
Roe deer, foxes, badgers, buzzards, herons and a host of other wild creatures are regular visitors to Belstane and if you're a bird watcher you can grab the chance to see the good, the bad and the ugly of the bird world: bull finches, chaffinches, blue tits, woodpeckers to name but a few of the common birds as well as merlins, sparrowhawks, and the occasional hen harrier. In fact, you don't have to do too much to enjoy the wildlife, just be quiet and leave them in peace and they'll wander by.
Of course, we know that you might want a holiday where you simply sit back and enjoy a well-earned break. Well that's ok too. Our cabins are fitted with TVs and there's a range of DVDs on tap if you fancy watching a movie.
Can I Bring My Pooch on Holiday with Me?
The short answer to that is yes. We're doggy people and like to take our own dogs on holiday so well behaved dogs are welcome - a maximum of two. We do have to have a few rules for dogs and dog owners which we think are fair:
Dogs In The cabin:
Absolutely no dogs on the furniture or on the beds. Please bring your own dog bed(s) with you, if you haven't got one, or don't have room in the car for it, we can provide one.
If your dog 'has an accident', please clean it up properly; if you're short of cleaning stuff to make a decent job of it just ask and we'll help out but there should be enough in the way of cleaning equipment available.
Dogs must not be left unattended in the cabin.
Damage: if your dog chews or otherwise irreperably damages the fixtures, furniture or fittings then the damage has to be paid for.
Dogs Outside:
This is the tricky bit, especially with town dogs. Dogs are directly descended from wolves - they are carniverous pursuit hunters and are at their happiest when chasing something, especially in a pack. A pack can be as little as one dog trying to catch dinner for his packmates (you).  Dogs which aren't familiar with cattle or sheep will usually behave in one of two ways: 1) they'll either be nervous of them and shy away, or 2) they'll want to chase them. Conversations with owners of unruly dogs in the countryside quite often go like this:
"He's only having fun, he doesn't mean any harm."
"Yes, of course he's having fun, but the sheep aren't, please put him on the lead."
So, the dogs outside rules are:
Walkies:There's plenty of space here at Belstane for you to walk your dog and let him off the lead. However, if you are unsure of your dog's reaction to livestock and there's livestock in the fields, please keep the dog on the lead until there's a fence between you and the livestock. The woods surrounding the cabin are well fenced and there's plenty of space for a decent 'mad-as-anything' doggy run-around. Also, just down the road there's a long forest walk ideal for doggy (and child) adventures.
Poo: Please don't allow your dog to mess within the cabin garden. If it does, please lift it and put it in the bin. We can provide dogpoo bags. At poo time, please walk your dog in the wood, preferably in the lower section - there's a gate. If there are no livestock in the field then you can use the field for an off-the-lead run around too.
Other People and Other People's Dogs: This is no different from anywhere else on the planet, not everybody feels as indulgent towards our dogs as we do; please respect that. 
Read some of our reviews HERE.
To read and download our Terms and Conditions, click HERE.
Fiona Rice, Belstane Log Cabins
p.s. if you think this information was useful, why not recommend it to a friend using one of the Social Networking links below.
Back to the HOME Page.